recycled performance yarn, made from 100% post-consumer recycled PET polyester filament yarn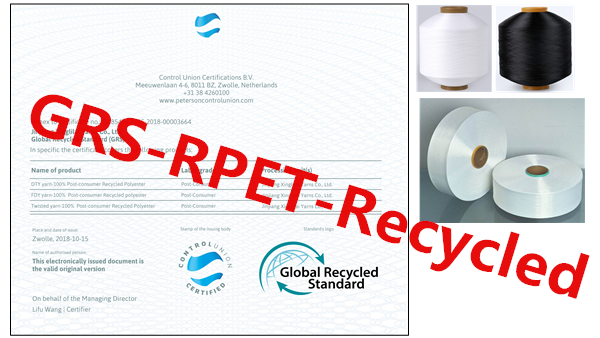 contributes to the circular economy with 100 percent recycled performance yarns for fabric
Many enterprises change raw materials into 100 percent post-consumer recycled PET material across the portfolio. This move underscores the company's commitment to sustainability and moving towards a circular economy.
The new recycled will offer the same quick drying times, wicking speeds and comfort as the previous virgin polyester product while helping reduce waste by upcycling post-consumer recycled PET bottles as feedstock for the fiber.
we are giving a second life to plastic bottles and making sure they don't end up littering our oceans or trails. Our customers can show their commitment to caring for the outdoors and contribute to a circular economy without sacrificing performance or comfort."
About Xinglilai yarns
Jinjiang Xinglilai Group Co Ltd was founded in March 1983. The group's total registered capital is 50 million RMB. The headquarters is located in wuli industrial area in Jinjiang. After 36years of development ,it has branch companies as follow, Jinjiang Xinglilai Yarns Co Ltd, Dongguan Xinglilai Warp&weft Yarns Co Ltd,Quanzhou Xinxingliali Fibre&testile Co Ltd and Changsheng Fibre Industy Trading Co Ltd in vietnam.Our partners have throughout Fujian,Guangdong,zhejiang area, hongkong,europe, southeast asia and other regions. Established a good reputation and won wide praise from customers. At the same time, the company relies on huge production development and large scale, combined with advanced technology and equipment, which established the foundation on the spinning market.
We produce many kinds of the raw material yarns ,such as
polyester yarn,
recycled yarn,
diamond yarn,
nylon monofilament yarn,
blended yarn and so on.
They can be used for labeling, weaving, knitting and ribbon.The company has more than 400 sets of different machines. Like POY spinning equipment, texturing machine, drawing machine, twisting machine, warping machine and so on. Have own R&D center and test center. Annual output high-grade polyester yarn more than 2000 tons , more than 8000 tons of ordinary yarn. The company produce more than 1000 kinds of color bright polyester yarn. Our Products passed the ISO9001 quality system and Oeko-tex Standard 100 ecological textile certification,provide various specification stability color yarn.
https://www.linkedin.com/posts/yuki-zheng-%E9%83%91%E9%9D%99%E9%9B%AF-692117168_recycled-polyester-yarn-activity-6608602662231437313-0tDE